Plastic
and Paper Tape Collated Strip Nails for Floor and Wall Framing: Galvanized Steel Collated Framing Nails

at 21, 28, 30, 33, 34 Degree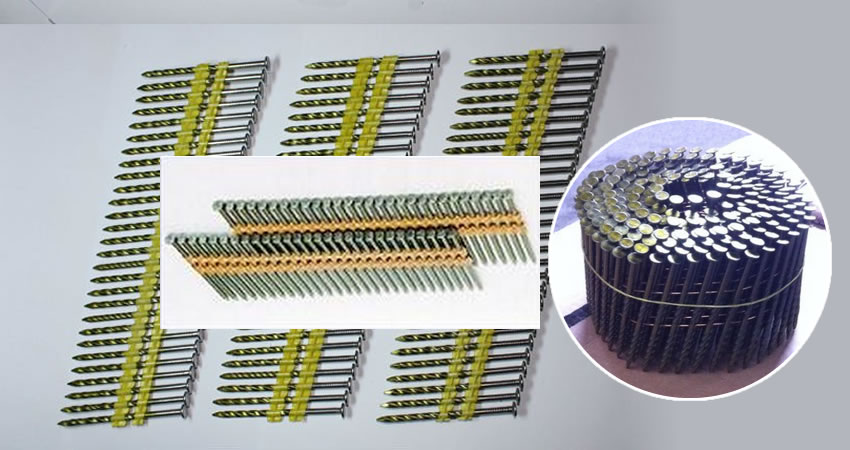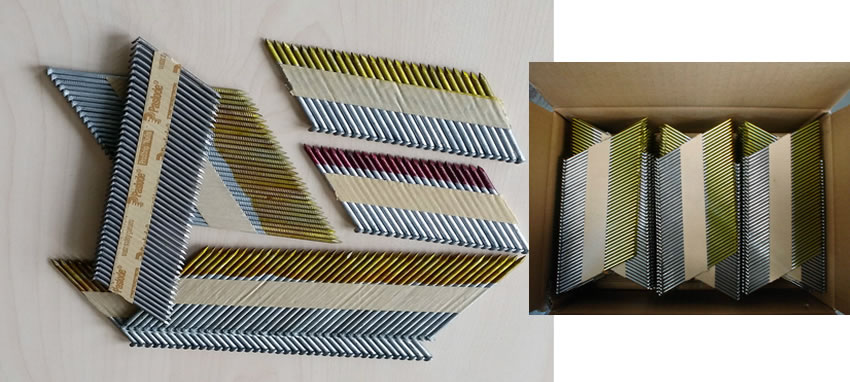 Strip collated framing nails are nailer nails designed to use with all standard nailing guns. Clavos supplies both plastic and paper collated strip nails in all sizes for framing uses. The collated framing nails are finished with electro galvanizing, Hot dipped galvanized H.D.G., bright polished or stainless steel. We also export special material strip collated nails made of SS304; Medium carbon steel 45C; High galvanized wire with Galv.zinc layer 20-25 microns (80-95gr./m2) and so on. The strip nails are widely applied in floor and wall framing, bridging, siding installation, wood box assembly, roof and wall sheathing, pallets, crate and box fastening assembly and other uses.

33 Degree Paper Tape Collated Vinyl Coated Framing Nails:

Can be used with most nail guns in market.
Available Shanks: Smooth, Ring, or Screw.
Clipped D Head Framing Nails, 28 and 34 Degrees Paper Strip Collated Nail
Paper collated strip nails.
Material: Q235 Steel wire
Shank Diameter:
0.113"-0.13" (2.9mm to 3.3m)
Length: 2"-4" (50mm to 100mm)
Head: D/C Head
Shank types: Smooth, screw, ring
Finish: Bright; Elec-GALV; Mech-Galv; H.D.G; Stainless Steel.
Angle Degree: 28-34 degree
Nail point: Diamond
Packings:
Nails/Strip: 25~40 PCS; Strips/ Carton: 75 strips; Cartons/Pallet: 60 cartons
Color: According to different customer's requirement and market conditions,we can make blue/yellow/red color down both sides of the nail shank.
Degree: 28 and 34 degrees
Shank diameter:0.113-0.162 inches(2.87-4.00mm)
Length: 2"-4"(50-100mm)
Shank: Smooth, Ring, Screw & Barbed
Finishes: bright, galvanized,and stainless
30 Degree Framing Nails paper collated:
Specifications
1) Colored Strip Nails
2) Multi Color Avalable
3) Degree:28 or 34 degree
4) 2.8*61mm / 2.8*68mm
1) Colored Strip Nails- Red, Black,
2) Multi Color Avalable
3) Degree:28 or 34 degree
4) 2.8*61mm / 2.8*68mm
5)Finish: HDG, MG EG & Dip Coating
Package description: 25PCS/STRIP or 34 PCS/STRIP, 35 PCS/STRIP 3000 strip/ CTN, 48CTN/PALLET.
21 Degree Round Head Plastic Strip Nails:
Material: standard mild steel
Collation type: plastic
Welding angle: 21 degree
Shank diameter: .113, .120, .131
Length:50-120mm
Finish: with full vinyl, half coated, hot dipped galvanized, E-galvanzied
Shank: smooth, ring , screw (spiral)
Nail Head: flat head , domed head
Nail point: diamond point, chisel point, blunt point, blunt chisel point
Packing: 25-40pcs/strip, 48-60ctn/pallet