Clavos Supplies Nails Wire Drawing Machine, Wire Nails Making Machine, Nails Polishing Machine, Rolling Machine And Coiling Devices Of Nails.
Clavos have five steps for coiled screw nails production, as following illustrations.
1. Steel Nail Wire Drawing;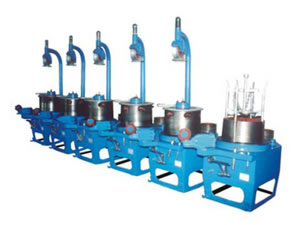 2.Nails making;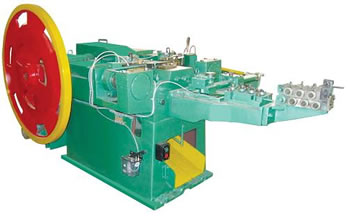 3.Polishing of nails;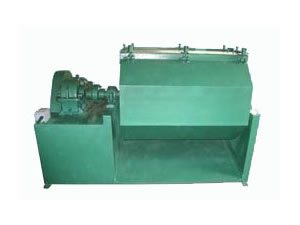 4.Rolling of nails rolling;
5.Coiling of nails.


Popular nail making machine: 1-6 inch Nails Making Machine.
This automatic machine is used for produciton line of construction nails with nNail length from 10mm to 210mm. Featuring high speed,low noise and easy operation. 
Benefits:
 1 .Both of the scrap iron wire and the new steel rod can be used to make nails.
2 .This nails machine can feed the materials automatically.
3 .This nails machine has the features of high speed, low noise, less impact.
4. All the main components are made of quality steel, such as shaft, cams and gear.
5. The nails made by the machine will be straight, the point of the nails will be sharp and symmetrical, the nails cap will be round.
Nails Specifications Manufactured by The Machine:
| | | | | | | |
| --- | --- | --- | --- | --- | --- | --- |
| Model | M-6C | M-5C | M-4C | M-3C | M-2C | M-1C |
| Max diameter of nail | 6mm | 6mm | 4.5mm | 3.1mm | 2.8mm | 1.6mm |
| Min diameter of nail | 3.1mm | 2.8mm | 2.8mm | 1.8mm | 1.2mm | 0.9mm |
| Max length of nail | 180mm | 150mm | 100mm | 70mm | 50mm | 25mm |
| Min length of nail | 70mm | 50mm | 50mm | 30mm | 16mm | 9mm |
| Nail making speed | 220pcs/min | 220pcs/min | 260pcs/min | 320pcs/min | 350pcs/min | 450pcs/min |
| Motor power | 10kw | 5.5kw | 4kw | 3kw | 2.2kw | 0.8kw |
| LxWxH | 3x1.8x1.9 m | 2.4x1.7x1.65m | 2.2x1.6x1.65m | 2x1.4x1.4 m | 1.7x1.3x1.4m | 1.5x1.3x1.2m |
| Weight | 5.5 T | 2.2 T | 2 T | 1.8 T | 1.45 T | 1.2 T |