Zinc Plated Steel Ring Shank Wire Nails Collated Coils for Crating and Pallet Siding Uses Operated with Nail Guns
Steel Wire Collated Screw Shank Nails make ideal fasteners for crating, pallet siding, and permanent construction. Ring shank or screw shank nails are also called twisted nails, threaded or deformed shank nails. The ridges or grooves along the shank increase the part that the nails penetrate into the wood. This twisted shank design enables a much better holding power of these nails than smooth shank nails, because the rings act as wedges to keep the nail firmly in place so that it cannot pop out. Collated coils forms of the nails allow the operator to hold more nails in the gun and reduce reload time. The nails come in all forms of vinyl coated and galvanized finish, as well as deformed shanks with varying holding power such as smooth, screw and ring.
For above reasons, the coiled nails with twisted shanks are commonly used in crating and roof construction. Ring shank nails are designed for permanent construction. We supply collated ring shank screw nails with nail guns together.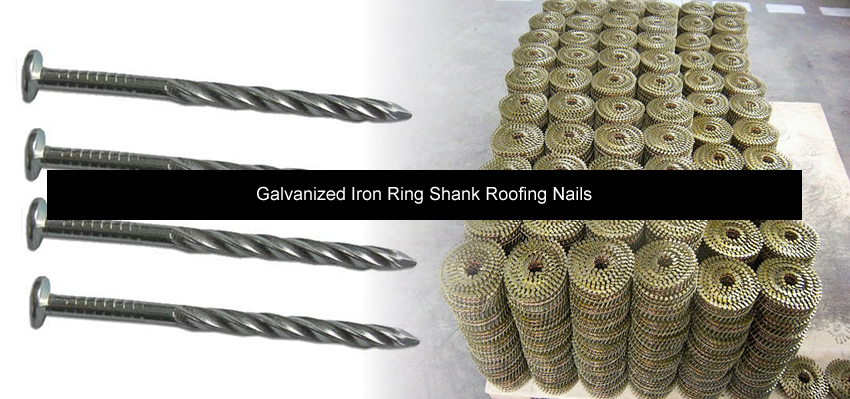 Clavos can supply a wide range of wire coil thread rolling nails, ranges from .083'' to .131'' wire diameter with lengths from 1-1/4'' to 3-1/2''. The design of a ring shank nail looks a lot like that of a screw, except that the head is flat. The pattern of ridges along the shank of the nail can vary. Clavos can supply very shallow rings, large rings, spiral grooves.

General Technical Information:
Commodity

Twisted Ring Shank Nail/Thread Rolling Nails


Material

Q195 Q235 iron wire rod or according to request.

Head

Flat Round Head

Finish

Electro Galvanized,Polished,Yellow,Black

Shank

Twisted shank

Point

Diamond point

Packing

in box, carton, case, plastic bags, etc.

Size

9BWG X 1-1/2'', 2'', 2-1/2'' ,3'' 10BWGX1-1/2'',2'',2-1/2'',3''
11BWGX2'',2-1/2'',3'' 12BWG X2'' 13BWGX1.5",2"

Specifications of Twisted Ring Shank Nails:
Ring Shank Nails /Thread Rolling Nails

Specification
Diameter(MM)
Head Diameter(MM)
8G*2.0"
4.19MM
20MM
8G*2.5"
4.19MM
20MM
8G*3.0"
4.19MM
20MM
9G*1.5"
3.85MM
20MM
9G*2.0"
3.85MM
20MM
9G*2.5"
3.85MM
20MM
9G*3.0"
3.85MM
20MM
10G*2.0"
3.4MM
20MM
10G*2.5"
3.4MM
20MM
10G*3.0"
3.4MM
20MM
11G*1.5"
3.15MM
18MM
11G*2.0"
3.15MM
18MM
11G*2.5"
3.15MM
18MM
Popular Types:
Bright Polished Ring Shank Steel Nails
Size:1/2"-6"
Shank diameter: BWG4-14
Four Finishes available: Polished, EG (electro galvanized), HDG, black
Features: The grooved ring shanks make these nails even harder to remove than conventional ones.