Galvanized Steel Roofing Nails with Umbrella Head Attaching Asphalt Felt, Slates and Insulation Foam Sheet to Buildings
Umbrella head and big head clout wire nails are popularly used in roof construction jobs for attaching felts, slates, wooden sheet, foam sheets and other roofing materials. Supply forms are coiled or bulk loose.

Finishes of roofing screw nails are Stainless steel, Hot Dipped galvanized, electro galvanized or yellow brass coated.

Clavos wire nails are manufactured in strict accordance with the export standards. Made of choice steel materials, our products are exported to Thailand, Australia, Jordan, Sri Lanka, Jordan and other countries. We supply umbrella head nails made of various materials including low carbon steel wire, galvanized wire, steel wire, brass wire and stainless steel. Wire nails designed with big umbrella head are popularly used in buildings. The heads or caps can be made plastic ones for insulation sheet fastening.
Plastic Cap Roofing Nails Fastening Insulation Sheet
Ring shank with round plastic cap. Used to attach felt paper and foam sheeting to roof and other parts of the buildings.
Material: Iron Q195
Length: 3/4"-3"
Head diameter:1"
Shank dia:2.8mm
Shank:ring
Wire Gauge:BWG12
Color: Red,white,blue,black,green,yellow or others.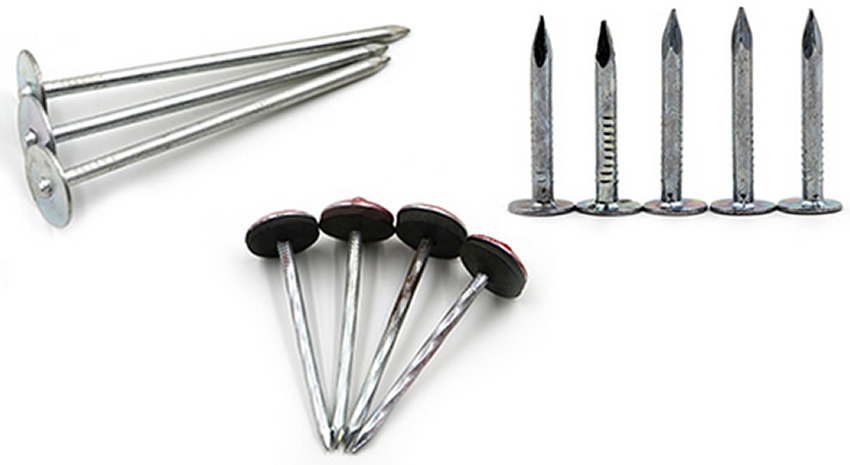 Stainless Steel Roofing Felt Nails with Umbrella Caps and Ring Shanks
Specification: BWG9X2.5"
Material: iron
Length: 2.5"
Head diameter: 20mm
Shank diameter: 3.8mm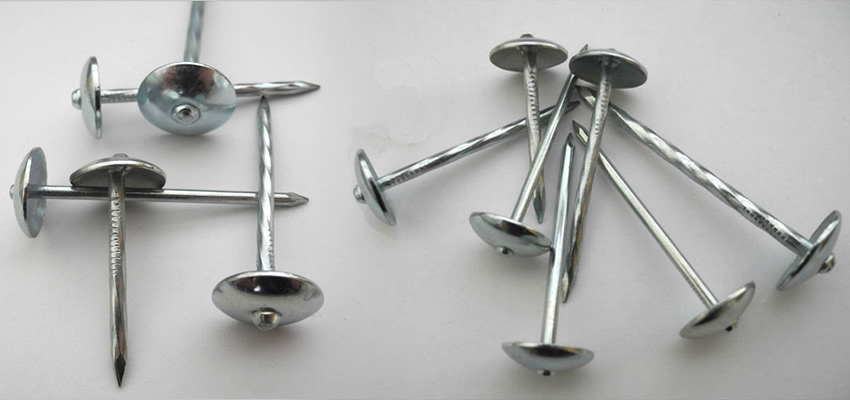 | | | | |
| --- | --- | --- | --- |
| Nail Wire Specification | Nails Length (mm) | Rod diameter(mm) | Nail Cap / Head diameter(mm) |
| bwg8*2" | 50.8 | 4.19 | 20 |
| bwg8*2-1/2" | 63.5 | 4.19 | 20 |
| bwg8*3" | 76.2 | 4.19 | 20 |
| bwg9*1-1/2" | 38 | 3.73 | 20 |
| bwg9*2" | 50.8 | 3.73 | 20 |
| bwg9*2-1/2" | 63.5 | 3.73 | 20 |
| bwg9*3" | 76.2 | 3.73 | 20 |
| bwg10*1-3/4" | 44.5 | 3.37 | 20 |
| bwg10*2" | 50.8 | 3.37 | 20 |
| bwg10*2-1/2" | 63.5 | 3.37 | 20 |
| bwg11*1-1/2" | 38 | 3.02 | 18 |
| bwg11*1-3/4" | 44.5 | 3.02 | 18 |
| bwg11*2" | 50.8 | 3.02 | 18 |
| bwg11*2-1/2" | 63.5 | 3.02 | 18 |
| bwg12*1-1/2" | 38 | 2.74 | 18 |
| bwg12*1-3/4" | 44.5 | 2.74 | 18 |
| bwg12*2" | 50.8 | 2.74 | 18 |
Galvanized Carbon Steel Umbrella Head Twist Shank Roof Nails
Material: Low carbon steel wire, Galvanized wire, Steel wire, Brass wire
Finish : Good polished, flat head, diamond point, hot-galvanized/electro-galvanized, smooth, shank.
The length: 20-200mm
The diameter: 1.2-6mm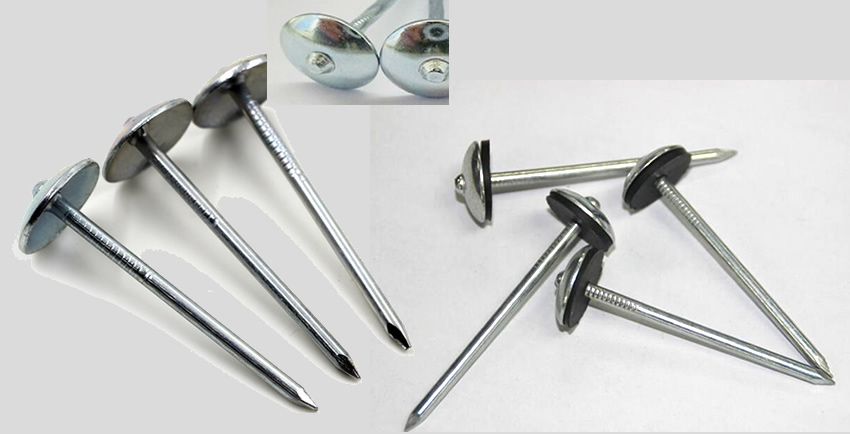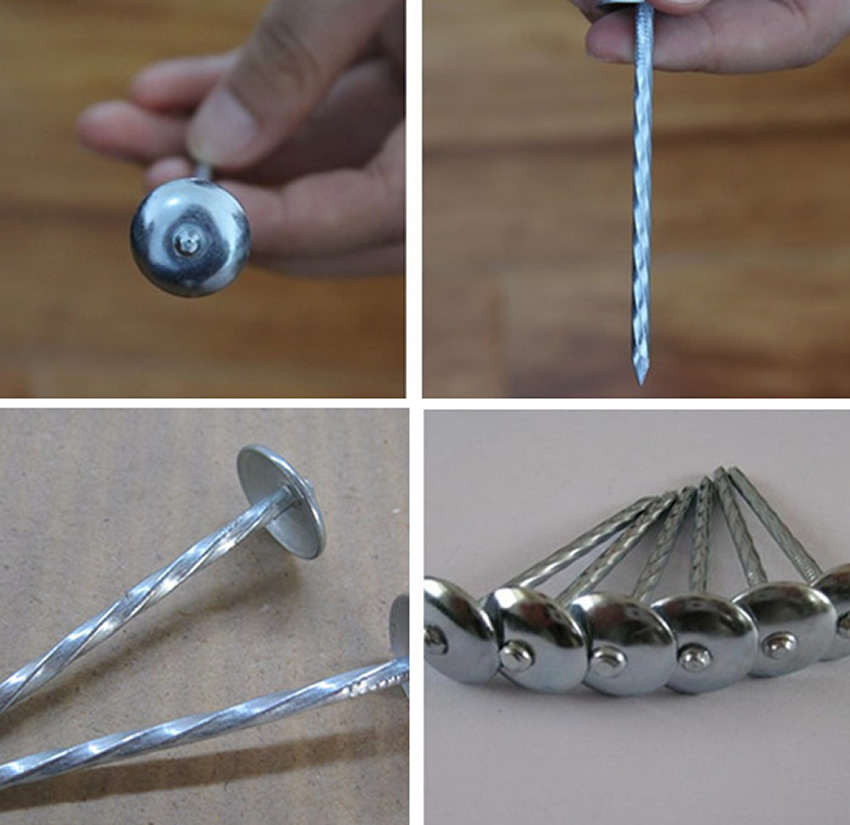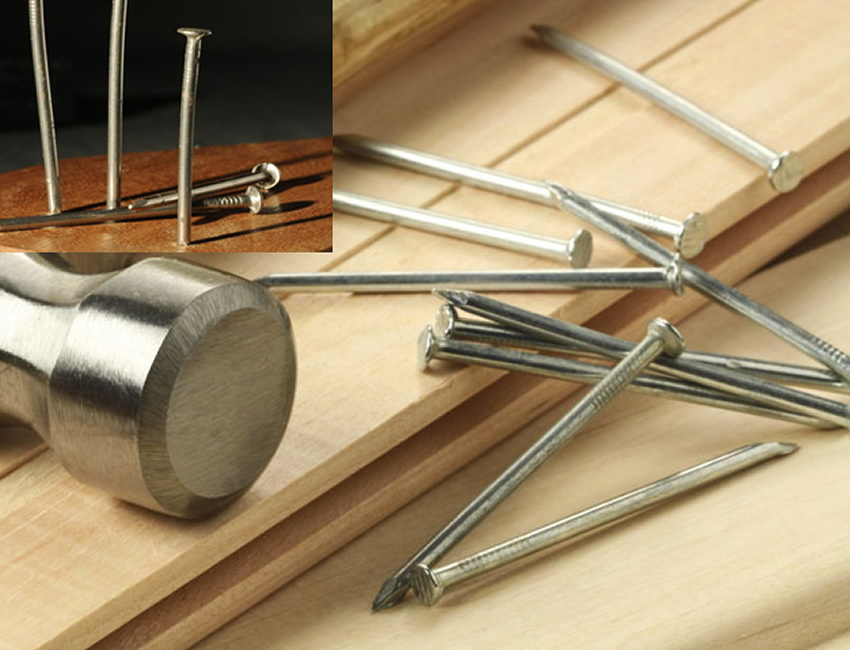 Flat Head Common Roofing Nails for General Building Materials Fastening